Welcome to David Earn's website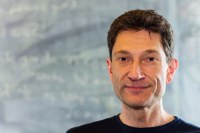 I am an applied mathematician with primary research interests in epidemiology, ecology and evolutionary theory. Examples and details can be obtained from the Research and Publications pages of this web site, and from Selected Press Coverage of My Research. You can learn about some of my research from my TEDx talk on "Visualizing and modelling contagion".  You can learn a bit about me from my academic history and the story of how I got involved in mathematical biology research.
I chair the Ontario Modelling Consensus Table, and I am a member of the Ontario Science Advisory Table.